May 11, 2023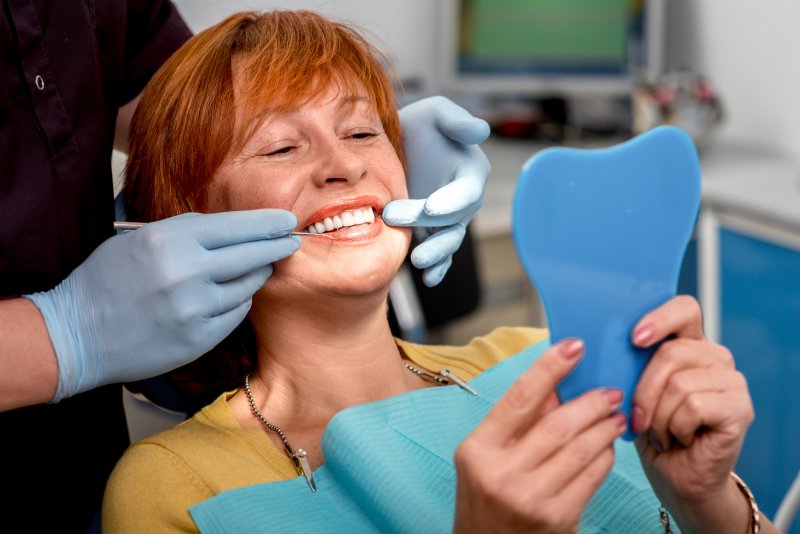 If you're about to get new dentures, you're likely excited. After all, these replacement teeth will restore your smile and so much more. Still, do note that you'll have to adjust to them for a month or more. Thirty days is roughly the time needed for a mouth to become familiar with dentures' qualities. As for what's involved in this adjustment period, let your Owings Mills dentist explain. Here, then, are a few things to expect from your first month with dentures.
What the First Month of Dentures Involves
At different points over the first month, wearing dentures will lead to varying effects. For example, here are some common ones divided by timing:
The First 24 Hours
For the initial twenty-four hours, expect your gums to feel sore. They'll be experiencing dentures for the very first time. Furthermore, the dentist may have extracted teeth to place your new prosthetic ones. You should thus wear the latter to bed, letting them act as a band-aid so your gums can heal.
You should only have soft foods during this period, too. Things like mashed potatoes or macaroni and cheese won't upset extraction sites like tougher items might.
The First Two Weeks
From the 24-hour mark onward, you'll see your dentist several times over the coming weeks. The first visit lets them remove the dentures without harming your gums. Afterward, later appointments will ensure the prosthetics fit comfortably.
Your mouth may struggle to use dentures during these first few days. Often, a patient can develop sore spots from the new teeth. It's also common to have more saliva.
*After* The First Two Weeks
After a couple of weeks, you'll have adjusted more to dentures. Consequently, you'll likely have fewer sore spots in your mouth and less saliva. You may also feel more proficient in chewing food, speaking, etc.
That said, you may (still) lisp while you talk. If you do, though, don't worry; this effect will fade after a bit more time.
Tips for Better Denture Adjustment
Of course, there are things you can do to make the adjustment easier. Consider following the tips listed below:
Remember Daily Cleanings – You should try to brush your dentures twice daily, as you would natural teeth. The habit removes plaque and stops bad breath.
Store Your Dentures Properly – When you aren't wearing them, store your dentures in a glass of cleansing solution. Doing so will keep the restorations germ-free and prevent them from drying out.
Practice Makes Perfect – To re-learn how to speak well, read aloud from your favorite book and keep a running list of difficult words. The more you talk with dentures, the easier it'll get.
The first month with dentures isn't a picnic, but you'll get through it. From there, you'll enjoy the perks your replacement teeth offer.
About the Practice
Diamond Dental of Owings Mills is based in Owings Mills, MD. Led by Dr. Monica Mattson, our practice provides top-quality dental care at affordable prices. As such, we offer preventive, cosmetic, and restorative services, as well as emergency smile procedures. You can thus count on us for any and all of your denture needs! For more information or to book a visit, just reach us on our website or by phone at (443)-394-2273.
Comments Off

on What to Expect During Your First Month with Dentures
No Comments
No comments yet.
RSS feed for comments on this post.
Sorry, the comment form is closed at this time.