August 12, 2023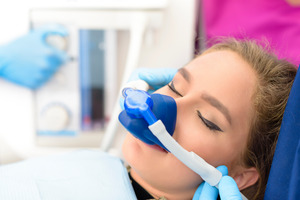 Does the thought of visiting the dentist for any reason leave you feeling anxious? If so, you may be considering having nitrous oxide sedation administered at your next appointment. Dentists often use nitrous oxide to help their patients keep their dental fears under control. But how will you know if you're a viable candidate? Here's a quick look at how to tell whether or not nitrous oxide sedation is a good fit for you.
How Does Nitrous Oxide Sedation Work?
When you decide to have nitrous oxide sedation performed, your dentist will place a small mask over your nose before your procedure begins. This mask will let you breathe in the nitrous oxide (which will be mixed with oxygen) while your smile is being treated. The sedative won't put you to sleep, but you will feel very relaxed and unbothered by your surroundings. After the mask has been removed, it will only take a few minutes for the effects to wear off.
What Makes Someone a Good Candidate for Nitrous Oxide Sedation?
Nitrous oxide sedation can make it easier for various patients to get the care they need. Your dentist may recommend it in your case if you:
Struggle with a mild to moderate case of dental fear or anxiety.
Have an unusually strong gag reflex that can potentially interfere with your ability to successfully undergo dental treatment.
Have teeth or gums that are more sensitive than normal and need help staying comfortable in the dental chair.
Find it difficult to remain still for an extended period of time.
Are planning on having an especially lengthy or complex dental procedure performed.
Is There Anyone Who Should Not Undergo Nitrous Oxide Sedation?
Not everyone is considered a candidate for nitrous oxide sedation. For one thing, it is not recommended for pregnant women. Nitrous oxide is a Category C drug, which means that it could potentially be harmful to a still-developing fetus.
On top of that, certain medical conditions may make nitrous oxide sedation a less-than-ideal choice for you. If you have emphysema, chronic bronchitis, or another respiratory disease, you should avoid nitrous oxide.
Finally, nitrous oxide may have harmful interactions with certain medications. Your dentist will need to be informed of any medications that you're currently taking so that they can determine whether nitrous oxide sedation is safe in your case.
If nitrous oxide ends up being the right choice for you, it could go a long way toward making your next dental visit more relaxing. Reach out to your dentist today to learn more about your options for sedation.
About the Author
Dr. Monica M. Mattson studied dentistry at Case Western Reserve in Cleveland, Ohio. She served in the US Navy for eight years and attained the rank of Lieutenant Commander. At her current practice, Diamond Dental of Owings Mills, she offers nitrous oxide sedation for patients who are nervous about receiving dental care. To schedule a consultation with Dr. Mattson, visit her website or call (443) 394-2273.
Comments Off

on How Can You Tell If You're a Good Candidate for Nitrous Oxide Sedation?
No Comments
No comments yet.
RSS feed for comments on this post.
Sorry, the comment form is closed at this time.