December 4, 2022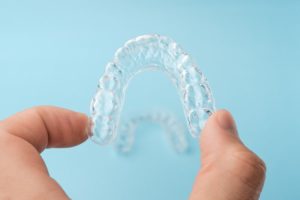 You may need dental restorations or decide to get cosmetic dental treatment as you get older. Some common examples include dental crowns, bridges, or veneers. While these all serve their purpose when it comes to keeping your smile healthy and aesthetically pleasing, you may be wondering if they will interfere with the Invisalign treatment that you want to straighten your smile. Continue reading to learn from your dentist in Owings Mills how each of these restorations could affect orthodontic treatment.
Invisalign with Dental Crowns
Getting traditional metal braces when you have dental crowns can be a challenge. Your dentist would need to potentially use different adhesives and even check to see if your tooth is strong enough to endure the pressure of orthodontic treatment. Because of this, Invisalign can be a great option for people with crowns.
Invisalign with Dental Bridges
Bridges are fixed into place and cover some of your natural teeth, so you may not be able to receive traditional orthodontic treatment if you have one. If too much force is applied to it, the bridge can be damaged. However, if your misalignment issues aren't severe and don't require the supportive teeth to be moved, this could be a solution. Otherwise, you may need a new bridge placed after your treatment.
Invisalign with Porcelain Veneers
It is very difficult to attach metal brackets to porcelain veneers. Even when they are connected, there is still a risk the bracket could compromise the smoothness of the veneers. Invisalign is usually a much better option if you are hoping to straighten your teeth while you have porcelain veneers. The presence of the veneers does not affect the tooth movement, and there is little risk of damaging the veneers because the aligners are not fixed to the surface of the tooth.
Clear aligners don't use adhesives to secure themselves to teeth, so they are removable and won't interfere with eating or drinking while they straighten your smile. Invisalign isn't for everyone, but if your dentist deems you a good candidate, then it could be a possibility, even with crowns, bridges, or veneers. Talk to your dentist in Owings Mills to see if this is clearly the solution for you!
About the Author
Dr. Monica Mattson earned her dental degree from Case Western Reserve University. Licensed in Maryland and Florida, she is a member of the American Dental Association. If you are interested in Invisalign, she has studied this branch of orthodontics extensively and is offering $500 off this smile solution for a limited time! To get started, schedule a consultation on her website or call (443) 394-2273.
Comments Off

on Can Someone with Veneers, Crowns, or Bridges Get Invisalign?
No Comments
No comments yet.
RSS feed for comments on this post.
Sorry, the comment form is closed at this time.