December 31, 2020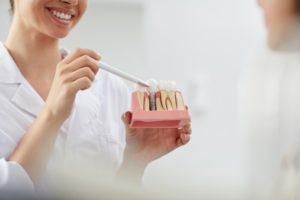 Whether you are missing a single tooth or an entire row, you are all too familiar with the fact that gaps in your smile can prevent you from laughing confidently, chewing easily, and speaking properly. Luckily, thanks to advancements in dentistry and state-of-the-art technology, you can rebuild your smile with dental implants and leave all those problems in the past! After all, they currently hold an impressive 95% success rate, can effectively prevent jawbone deterioration, and are extremely life-like in every sense of the word. Interested in learning more about this modern tooth replacement option? Keep reading to learn four qualities of a good dental implant candidate in Owings Mills.
#1. Sufficient Bone Density
Dental implants are widely known for their unmatched durability. The secret? They get their strength from your jawbone instead of simply resting against your gums. Therefore, for the dental implant to be successful in the short and long-term, patients must have an ample amount of bone density to support it. If your jawbone has deteriorated significantly, then undergoing a bone graft beforehand may be an option.
#2. Healthy Gums
On a daily basis, you probably rarely (if ever) think about the role your gums play in your overall oral health. Not only do they protect the root of each tooth, but they also securely hold them in place so you can chew and speak with ease. However, if they are compromised by a condition like gum disease, then your dental implant is much more likely to fail since it requires an infection-free environment to thrive. Fortunately, your dental team can incorporate periodontal therapy into your treatment plan to restore your healthy gums beforehand.
#3. Commitment to Good Oral Care Habits
Although dental implants are stain-resistant and cavity-resilient, they are by no means indestructible. To keep them in pristine condition for years to come, potential candidates need to be willing to commit to a solid oral hygiene routine, including brushing twice a day, flossing daily, and undergoing a checkup and cleaning every six months.
#4. No Poor Dental Habits
Much like your natural teeth, there are certain habits that leave your dental implants particularly vulnerable to damage. With this in mind, patients are encouraged to quit using tobacco products, clenching their teeth, chewing on ice cubes, opening items with their mouth, and other poor behaviors that can lead to a painful dental emergency.
Whether you are missing one, a few, or an entire arch of teeth, you may be a candidate for dental implants. The best way to find out for certain is to schedule an appointment with your dentist. From there, you'll be another step closer to a full, gorgeous smile!
About the Author
Dr. Monica M. Mattson completed her dental doctorate at Case Western Reserve University School of Dental Medicine, and she has been helping patients achieve full, healthy, beautiful smiles ever since! In that time, she has completed advanced training in dental implants at the world-renowned Las Vegas Institute and has been awarded the Quintessence Award for research achievement (one of her many). So, if you are interested in rebuilding your smile, Dr. Mattson is the professional to trust. To learn more about our dentist in Owings Mills or schedule an appointment, visit her website or give her a call at 443-394-2273.
Comments Off

on Interested in Dental Implants? Here Are 4 Qualities of a Good Candidate
No Comments
No comments yet.
RSS feed for comments on this post.
Sorry, the comment form is closed at this time.