November 5, 2020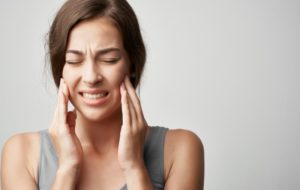 Are you experiencing chronic jaw pain related to your temporomandibular joint (TMJ)? Between eating, chewing, speaking, and yawning, it's no surprise that this frequently used joint can become inflamed and result in increased discomfort over time. Unfortunately, like many common dental problems, TMJ/TMD (temporomandibular joint disorder) often comes with a multitude of falsehoods. A dentist shares 4 TMD myths in Owings Mills and sets the record straight, so you can feel more confident about your decision to pursue treatment.
1.      It Is Rare to Have TMD
While you might think you're one of only a few people to be living with TMD, the truth is that it is extremely common with more than 35 million people in the U.S. suffering from this medical disorder. Studies claim that an estimated 1 out of every 10 people have TMD, and it knows no age. Both children and adults can experience its symptoms, but it is more likely that women and individuals between 20 and 40 will be at a higher risk.
2.      TMD is Not Serious
Probably one of the most dangerous myths associated with TMD is that it is not life-threatening. The reality is that while TMD itself is unlikely to result in death, it can lead to serious health problems that can pose a threat. From sleep problems and dental health issues to neck pain, poor nutrition, and a compromised immune system, TMD can negatively impact all these areas, leaving you at an increased risk for depression, heart disease, cancer, arthritis, and even tooth and bone loss.
3.      Headaches Are Not a Symptom of TMD
This is simply not true at all. The temporomandibular joint connects your jaw to your skull. When this area becomes inflamed and no longer works as it should, it can increase your chances of developing more frequent headaches. According to a study completed by the University at Buffalo School of Dental Medicine, it is believed that nearly 82% of females and 17% of males suffered headaches as a result of their TMD. The pain that occurs in your jaw does not just stay in one place. It can radiate to your head, neck, shoulders, and back.
4.      If You Have TMD, You'll Need Surgery
This is not always the case. In fact, your dentist in Owings Mills will likely only recommend surgery if no other treatment option works. Any surgery involving the jaw can be risky and result in a lengthy recovery, which is why so many dental professionals opt for alternative solutions. It may be that your dentist suggests a custom-made mouthguard to help relax the muscles and joints and alleviate any pressure and/or stress-relieving techniques and a change in diet.
Now that you know the truth about TMD, make sure you're heeding your advice from a licensed professional. This will ensure you are getting honest, clinically-based information that will lead you to make the right choice about treating your TMD symptoms.
About the Author
Dr. Monica Mattson attended Case Western Reserve University School of Dental Medicine, earning her DDS. In 1995, she was commissioned as an officer in the United States Navy and completed a General Practice Residency in Dentistry at the Naval Hospital of Camp Pendleton, CA. At Diamond Dental of Owings Mills, she and her team believe in honesty and transparency. By keeping a clear line of communication open, she can help debunk myths and ensure you receive the correct information you need to make a well-informed and confident decision about your dental health. If you want to know the real truth about TMD or other common oral healthcare problems, contact us at (516) 798-3808.
Comments Off

on It's Time to Debunk These 4 Myths About TMD
No Comments
No comments yet.
RSS feed for comments on this post.
Sorry, the comment form is closed at this time.