January 20, 2021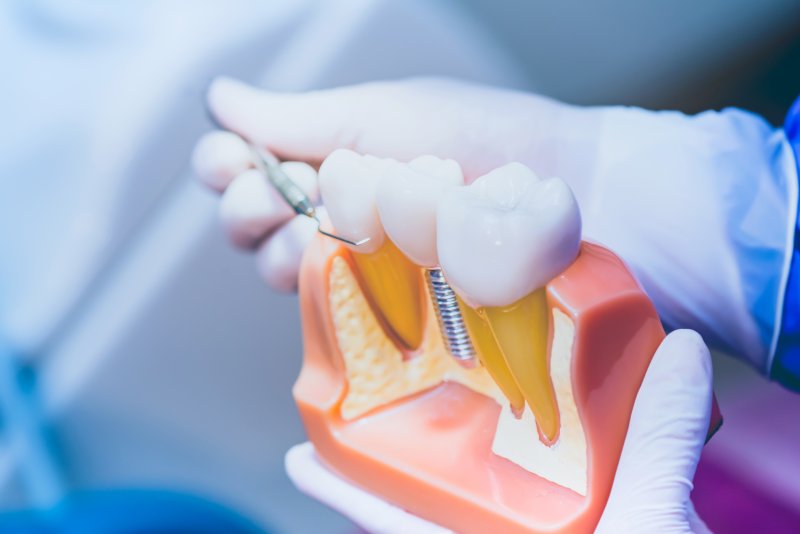 Tooth loss is a problem as old as human civilization itself, and over the centuries people have experimented with multiple ways to fill in the gaps left in incomplete smiles. Today, the best option for tooth replacement is dental implants in Owings Mills. However, while they're considered a relatively recent advantage, implants have actually been around for a long time in one form or another. In this post, you'll see how implants eventually evolved into the sturdy, reliable tooth roots they are today.
The Earliest Implants
About 4,000 years ago in China, people attached small bamboo pegs to their jawbones in order to replace their missing teeth. These are considered the very first implants. There's also evidence of Egyptians creating artificial teeth out of precious metals around 2,000 years ago. One of the more successful examples of early cultures using implants is the Mayans around 600 AD. Skulls have been found with shells that have bonded with the bone. As joining with the jaw is a key feature of modern implants, it is thought that the Mayans may have had better luck with their replacement attempts.
Implants in the 1800s
Implants didn't make any real progress until around the time dentistry was recognized as its own field in the 1800s. Dentists made several attempts to create replacement teeth that were secured directly to the jawbone, with gold, silver, and platinum being the most common materials. Unfortunately, none of these materials are biocompatible, so such implants were more likely to fail than not. Human teeth taken from cadavers were also used as makeshift implants; these were somewhat more successful since they could join with the bone, but they tended not to have a very long lifespan.
The Discovery of Titanium Implants
In 1950s, Dr. Per-Ingvar Brånemark was conducting a study in bone degeneration in rabbits. Part of the process involved placing a titanium device in a rabbit's leg. He eventually found that the bone had fused with the titanium in a process he called osseointegration. Dr. Brånemark eventually realized that this discovery had important implications for dentistry, and in 1965 he placed the first titanium implants.
Dental Implants Today
Titanium has become the go-to material for making implants that stay securely in place and provide strong support for dental prosthetics. The process has been gradually perfected over the years so that your new teeth look, feel, and function as much like your original ones as possible.
If you think the time has come to experience the modern wonders of dental implants for yourself, talk to your dentist in Owings Mills today about your tooth replacement options. You'll find that they truly are in a class of their own when it comes to restoring smiles.
About the Author
Dr. Monica M. Mattson served as an Officer in the United States Navy and completed a General Practice Residency in Dentistry at the Naval Hospital of Camp Pendleton, CA. She has completed multiple studies at the Las Vegas Institute, including dental implants and how to place them. To schedule an implant consultation at her practice, Diamond Dental of Owings Mills, visit her website or call (443) 963-3945.
Comments Off

on How Dental Implants Have Changed Over the Years
No Comments
No comments yet.
RSS feed for comments on this post.
Sorry, the comment form is closed at this time.