August 19, 2021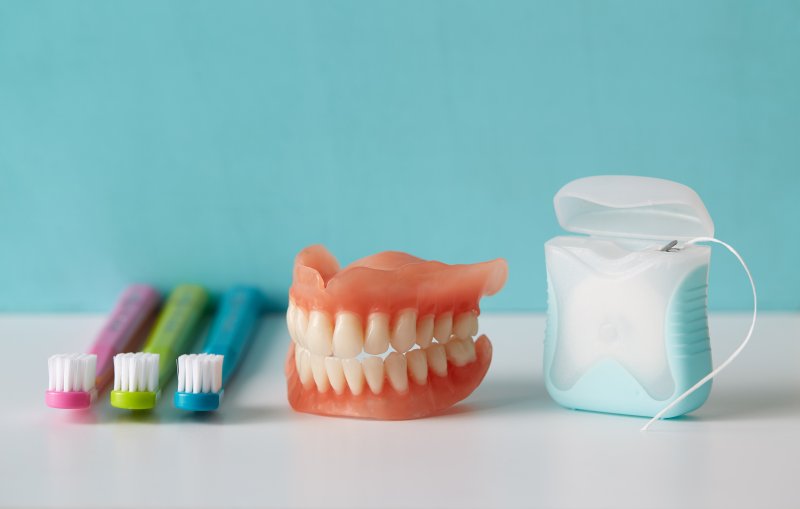 Even false teeth still have to be kept clean! Brushing your dentures every day is crucial for making sure they last as long as possible and ensuring that they don't lead to oral health issues. When you first get your dentures, you'll likely want to know if you can brush them while they're in your mouth or if you'll have to learn a new approach to oral hygiene. Your dentist can give you instructions after you've received your prosthetic, but in the meantime, the post below can give you some important tips for cleaning dentures.
Can Dentures Be Brushed in Your Mouth?
It is possible to brush dentures while they are in your mouth, but it is not the recommended approach. Bacteria and food debris can slip under the dentures and build up on the gums and the underside of the prosthetic. If you only clean the top of your dentures, then the harmful substances building up below it could eventually put you at risk for gum disease. As such, it's better to take your dentures out to clean them from top to bottom; this will also give you a chance to brush your gums and any remaining teeth.
What is the Best Way to Brush Dentures?
Make sure that you're brushing your dentures twice every day. Use a cleaning paste designed for dentures that will remove plaque and debris without damaging the surface. After you take your dentures out of your mouth, brush them thoroughly with a soft-bristled brush, being sure not to overlook any spots. Rinse your dentures off and let them dry; if you're taking your dentures out during the night, store them in a specialized solution.
What Else Can You Do to Take Care of Dentures?
In addition to regular brushing sessions, there are other steps for keeping dentures in good shape:
When you take your dentures out for cleaning or other purposes, make sure you're holding them over a sink half-filled with water or a soft towel; that way they won't break if you drop them.
If you notice a buildup of tartar, soak your dentures in a solution that's one-part vinegar and four parts water.
In addition to your dentures, you also need to keep your oral cavity clean. Bacteria can build up anywhere, so be sure to brush your gums, your tongue, or the roof of your mouth regularly.
Brushing your dentures properly and making sure you follow all the necessary steps to keep them clean will help extend the lifespan of your new teeth. Be sure to call your dentist if you have any doubts about your oral hygiene routine or think there might be a problem with your dentures.
About the Author
Dr. Monica M. Mattson has received numerous awards and honoraries, including the Eleanor Bushee AAWD, Senior Woman Dental Award for outstanding leadership and academic excellence. Through her continuing education, she has stayed up to date with the latest dental techniques and materials, and as such she is able to offer beautiful dentures that last for many years and fit comfortably on the gums. If you have questions about denture maintenance, you can schedule a consultation with Dr. Mattson at Diamond Dental of Owings Mills through her website or by calling (443) 394-2273.
Comments Off

on Can You Brush Your Dentures While You're Wearing Them?
No Comments
No comments yet.
RSS feed for comments on this post.
Sorry, the comment form is closed at this time.