November 19, 2022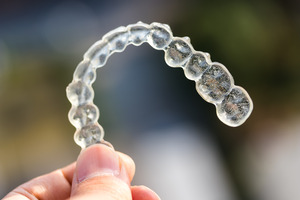 A misaligned bite is a very common orthodontic issue that can interfere with your ability to chew comfortably or speak clearly. Naturally, you'll want to have an overbite or a similar bite issue corrected as soon as possible. But if you don't want to wear traditional metal braces, you might wonder if there's a different kind of orthodontic treatment you can try. Can Invisalign help you overcome a misaligned bite? Here's what you need to know.
What is Invisalign?
Invisalign is a type of orthodontic treatment that uses clear aligners to straighten the teeth and reposition the jaw. Each aligner is made out of clear plastic, making them much more discreet than metal braces. You will need to keep your aligners in your mouth for around 20 to 22 hours every day, and you'll switch to a new set of aligners every 2 weeks or so. Depending on your situation, Invisalign treatment usually lasts around 12 to 18 months.
Can You Use Invisalign to Fix Your Bite Problems?
In many cases, the answer is yes. Invisalign has been shown to be effective for correcting a number of bite problems such as overbite, underbite, crossbite, and open bite. That said, whether or not you're a good candidate for Invisalign treatment is going to depend on your unique situation.
Generally speaking, Invisalign works best when used to treat mild to moderate bite issues. For more complex cases, metal braces might be required. The only way to know for sure if Invisalign is the best choice for your smile is to talk to an experienced dentist or orthodontist.
Why Choose Invisalign for Bite Problems?
Why do so many people prefer Invisalign over traditional orthodontics when it comes to bite correction? The answer is that Invisalign offers many unique advantages. For example:
Since Invisalign is virtually invisible when worn, it will be easier to smile with confidence throughout your treatment.
There are no diet restrictions to worry about. You can just take out your aligners during mealtimes; that way, you can eat whatever you want without having to worry about damaging your orthodontic appliance.
Invisalign aligners are made out of a smooth plastic that's more comfortable to wear than metal brackets and wires that can irritate your soft oral tissues.
You can take Invisalign out of your mouth when it's time to brush your teeth. This makes it easier to maintain good oral hygiene during your orthodontic treatment.
If you've forced yourself to live with a misaligned bite for too long, Invisalign may be the key to putting the problem behind you for good. Reach out to your dentist today to schedule a consultation and find out if Invisalign is the right choice for you.
About the Author
Dr. Monica M. Mattson has served as an Officer in the United States Navy and completed a prestigious General Practice Residency in Dentistry at the Naval Hospital of Camp Pendleton, CA. Today, at Diamond Dental of Owings Mills, she offers a wide range of treatments to help her patients enjoy healthier smiles they can be proud of. To schedule an Invisalign consultation with Dr. Mattson, visit her website or call (443) 394-2273.
Comments Off

on Can Invisalign Fix Your Bite Problems?
No Comments
No comments yet.
RSS feed for comments on this post.
Sorry, the comment form is closed at this time.