October 20, 2022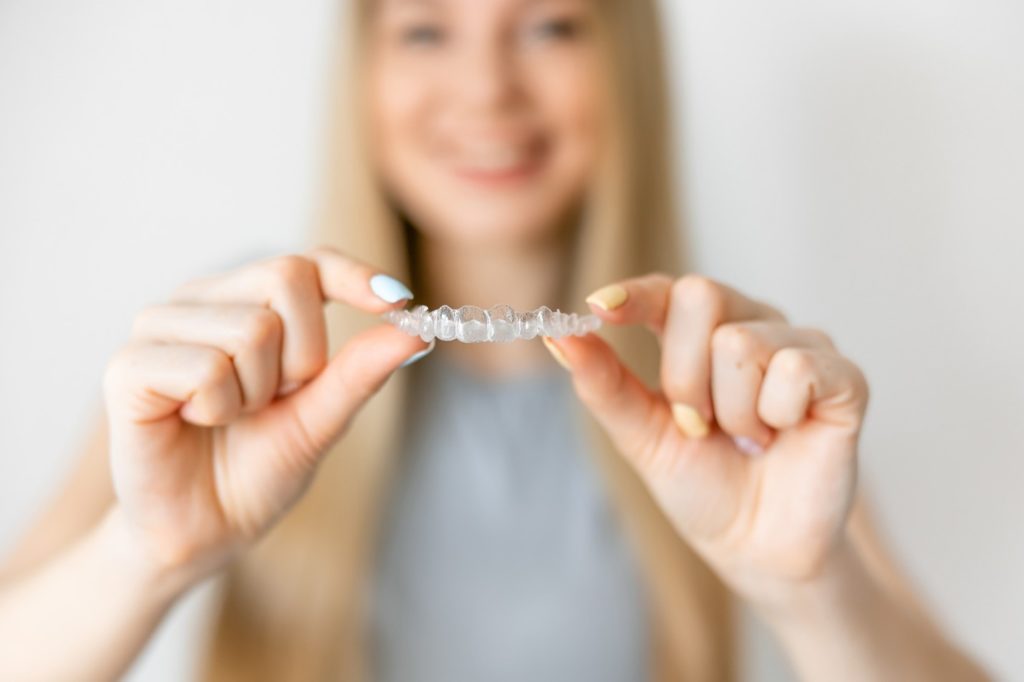 Over the last two decades, Invisalign has helped more than 12 million patients achieve their smile goals with discreet, clear, and comfortable aligners. So, if you're struggling with misaligned teeth, you might naturally want to learn more about this popular treatment. With this in mind, keep reading for the answers to some of the most commonly asked Invisalign questions!
Is Invisalign Treatment Painful?
Good news: Invisalign doesn't come with any metal brackets or wires. As a result, it's significantly more comfortable than traditional braces! Of course, any orthodontic treatment comes with some discomfort from your teeth being moved into entirely new positions. Don't worry though – you can alleviate any soreness you feel with dental wax, a cold compress, or an over-the-counter pain reliever.
How Long Does Invisalign Take?
Invisalign isn't a one-size-fits-all solution. Therefore, the timeline varies from patient to patient. On average, however, clear aligner treatment takes 12 to 18 months to complete. Since traditional braces can take 24+ months, Invisalign can end up delivering results significantly faster.
Will Invisalign Affect My Speech?
One concern that patients often have is that Invisalign will affect their speech. It's important to remember that this teeth-straightening treatment wouldn't be anywhere near as popular if it resulted in lasting negative effects to your speaking patterns. Not only do the large majority of patients experience no trouble at all, but the ones that do only experience changes for a short period of time.
How Often Do I Have to Wear My Aligners?
Since your aligners only work while you're wearing them, it's crucial that you keep them in as often as possible. The general recommendation is between 20 and 22 hours a day. Giving yourself 15 minutes for breakfast, 30 minutes for lunch, 30 minutes for dinner, and another 15 minutes for completing your oral hygiene routine throughout the day should help you meet this requirement.
My Aligners Are Turning Yellow – What Should I Do?
If your aligners are turning yellow, don't worry – there are a few things you can do to help restore their discreet appearance. First, always remove your trays before eating or drinking anything other than water. Next, thoroughly rinse your aligners each time you remove them and use a soft-bristled toothbrush to clean them before putting them back on. Lastly, soak them in the cleaning crystals periodically (for about 15 minutes at a time).
Can I Drink Coffee with Invisalign?
You can drink coffee during your Invisalign treatment. You cannot, however, drink coffee with your aligners in. Not only will this stain your trays, but it will also increase your chances of developing tooth decay. So, always remove your aligners before indulging!
Now you know the answers to a few of the most frequently asked questions about Invisalign! If you'd like to learn more about this teeth-straightening treatment, don't hesitate to talk to your dentist.
About the Practice
Since graduating from the Case Western Reserve University School of Dental Medicine, Dr. Monica M. Mattson has prioritized advanced training. In fact, she has far exceeded state requirements with the world-renowned Las Vegas Institute, completing continuing education on everything from Invisalign and dental orthodontics to the iTero digital impression system. If you have a question about Invisalign or would like to schedule an appointment to see if you're a candidate, don't hesitate to visit our website or call (443) 394-2273.
Comments Off

on 6 Commonly Asked Invisalign Questions, Answered!
No Comments
No comments yet.
RSS feed for comments on this post.
Sorry, the comment form is closed at this time.