January 10, 2022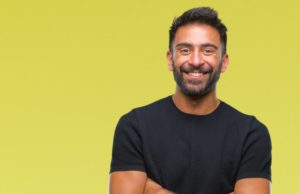 After years of wearing dentures, you're considering replacing your missing teeth with dental implants. But you hesitate to move forward with your decision. You feel like you are still getting used to how your dentures feel. What will dental implants feel like? Will they really make that much of a difference? Keep reading to learn how dental implants compare with your traditional dentures.
How Traditional Dentures Feel
If you have ever had a regular denture in your mouth, you know how awkward it can feel, especially at first. The restoration rests on top of your gums, using either suction or a clasp to stay in position. Dentures can slip and slide, which makes eating and talking more challenging to say the least. It probably took you months to adjust to how dentures feel in your mouth. Fortunately, adapting to dental implants is rather simple.
How Implants Feel Right After Implant Placement Surgery
Remember that placing implants is a surgical procedure. As such, you will likely feel sore in the mouth for a few days following placement. For a while, you'll need to stay away from chewy, hard, or crunchy foods and make chewing as easy as possible. A soft food diet of eggs, oatmeal, yogurt, and the like can allow your mouth to heal and avoid painful experiences in the days after the posts have been inserted.
After about a week, you should feel just as you did before the surgery, but that doesn't mean your implant is necessarily ready for use right away. In fact, the implant needs plenty of time for the jawbone to grow around it, which gives your implants stability and strength. This process usually takes anywhere between three and six months to complete.
How Implants Feel After Implant Restoration
Once your implant is ready to have a restoration attached to it, your dentist can quickly bond it in place. Basically right after that, your implants can be used just as normal, natural teeth. This means that you can bite and chew with nearly the same biting power as you had before! This opens up your diet to include more nutritious, fibrous foods that you may not have had with traditional dentures.
Simply put, dental implants feel like natural teeth and require a very short adjustment period. Soon after your restoration is in place, your mouth should quickly remember how to function.
Ultimately, if you want your replacement teeth to feel as realistic as possible, dental implants are your best option. They resemble real teeth and take very little time to adjust to, which means you get can back to eating, talking, and smiling just as you did before tooth loss!
About the Author
Throughout her career, Dr. Monica Mattson has undergone advanced training in many complex areas of dentistry, including dental implants, at the Las Vegas Institute, one of the nation's leading professional organizations. Before opening her private practice, she served in the US Navy for eight years. If you would like to meet with Dr. Mattson to discuss dental implants, you can contact her practice, Diamond Dental of Owings Mills by calling 443-394-2273 or online here.
Comments Off

on What Do Dental Implants Feel Like?
No Comments
No comments yet.
RSS feed for comments on this post.
Sorry, the comment form is closed at this time.