March 4, 2022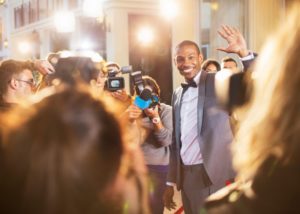 While watching a red-carpet event, you probably marvel at the million-dollar smiles all your favorite celebrities have. Although you may think they were born with it, that's not the case at all. They're just like us and naturally have flaws and imperfections in their teeth as well. The secret behind their perfect Hollywood smiles is something you may have expected – cosmetic dentistry. Thanks to services like dental implants, movie stars can replace their missing teeth and look picture perfect on the big screen. Keep reading if you want to know which celebrities have benefitted from dental implants.
What Are Dental Implants?
Dental implants are one of the most permanent and durable solutions for missing teeth. Small titanium posts are surgically inserted into the jawbone, providing a solid foundation for the artificial teeth. What's unique about this method of tooth replacement is that it's designed to substitute for the entire structure of your natural teeth, from the root up to the chewing surface. Since implants are firmly rooted in place, you never have to worry about them moving around while eating or speaking!
Which Celebrities Chose to Replace Missing Teeth with Dental Implants?
Thanks to cosmetic dentistry, celebrities can obtain a smile that looks flawless on and off-screen. Here are some famous faces who replaced their missing teeth with dental implants:
Mike Tyson
Mike Tyson is a former world heavyweight champion boxer who has a face tattoo that's hard to miss. He's also had several dental makeovers in his lifetime! Because he was a professional boxer, he's had to replace his missing teeth with dental implants many times. Additionally, he's used teeth whitening and veneers to obtain a perfect, aesthetically pleasing smile.
Chris Rock
When comedian Chris Rock was younger, he had worn-out and protruding top teeth. Since he didn't have a great set of pearly whites, he found it difficult to always be the center of attention. To the benefit of his career, dental implants and veneers were successfully able to restore his smile and confidence. Nowadays, he can confidently crack jokes and star in movies thanks to his stunning grin!
Ed Helms
Ed Helms is well-known for his role in the movie "The Hangover". He was the guy with a missing tooth – and it wasn't makeup magic or digital effects that made it look like he had a gap in his smile! Since he had dental implants placed several years ago, all he had to do was remove them for the shoot.
Nicolas Cage
Did you know that some actors lose weight to achieve the look their character demands? Well, Nicolas Cage went the extra mile and got his teeth extracted for a movie role. Unfortunately, it was a permanent decision that left him with no other option than to rebuild his smile with cosmetic dental work. Porcelain veneers, dental implants, orthodontics, and teeth whitening are some of the services he opted for.
Cosmetic dentistry makes it easy to achieve the Hollywood look you've always wanted. If you have missing teeth, your dentist in Owings Mills can replace them with dental implants and give you a smile that's ready for any red-carpet event!
About the Author
Dr. Monica Mattson earned her dental degree from Case Western Reserve University, and she worked hard to provide dental services during her eight years in the Navy. Dental implants were one of her notable topics of study via the prestigious Las Vegas Institute. Dr. Mattson, licensed in Maryland and Florida, is a member of the American Dental Association. If you are interested in dental implants, she can perform all placement and restoration in-house, plus evening and weekend appointments are available. Step one would be to schedule a consultation on her website or by calling (443) 394-2273.
Comments Off

on Who Are Some Celebrities Benefitting from Dental Implants?
No Comments
No comments yet.
RSS feed for comments on this post.
Sorry, the comment form is closed at this time.