July 6, 2018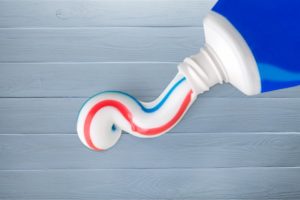 The moment you walk into the oral care aisle at your grocery store, it can feel quite daunting choosing a toothpaste. With so many features and flavors to choose from, it's hard to know which type is ideal for you, as well as your family. Luckily, your dentist in Owing Mills is prepared to remove the illusion the brands want to create.
At the end of the day, the toothpaste you choose will depend on your needs. Here's what you should consider first.
The Key Traits to Look For
According to your dentist, toothpaste must contain the active ingredient fluoride. This ingredient is responsible for preventing tooth decay, gum disease, and removing plaque from the surface of teeth and along the gum line. Without this ingredient, the toothpaste is purely cosmetic and will not be sufficient for protecting your oral health.
For additional assurance, look for the American Dental Association's Seal of Approval. This confirms that the manufacturer proved the efficacy and safety of its product through the ADA's Council on Scientific Affairs.
For Basic Daily Care
Many toothpastes contain a wide variety of agents besides fluoride. When it comes to choosing your oral care daily driver, you'll want to something that is not only effective, but makes you want to actually brush twice a day. You wouldn't choose a flavor you don't enjoy, so if you're unsure which is right for you, purchase a travel size version of the toothpaste flavor you're considering to test it out.
For Sensitive Teeth
Some patients find brushing difficult because they feel constant tooth sensitivity. Luckily, manufacturers have recognized the ingredients that cause this and created toothpastes that are free of it, without compromising on effectiveness. These toothpastes are also ideal if you plan on getting teeth whitening treatments in the near future.
For a Whiter Smile
If you frequently consume foods or beverages that cause surface stains on teeth, you'll find whitening toothpaste to be very beneficial. These contain additional abrasive agents designed to remove surface stains and keep teeth white. While there are no studies that suggest whitening toothpaste damages enamel, it's generally better to only use them a few times a week just to be safe.
To Make Brushing More Fun
Introducing your children to brushing is typically a difficult process. It's even more difficult when they don't enjoy the oral care products you're giving them. Instead of offering them the same toothpaste you use, give them the chance to choose a kid-friendly bottle. These feature their favorite cartoon characters, superheroes, and even unique flavors to choose from! If you didn't enjoy your toothpaste's flavor, would you enjoy brushing twice a day?
Picking the right toothpaste shouldn't be a lottery. If you want to learn more tips on choosing the right type for your family, schedule an appointment today!
About the Author
Dr. Monica M. Mattson earned her DDS degree from the Case Western Reserve University School of Dental Medicine. She's also a member of the ADA and the Triple Crown Study Club, allowing her to stay up-to-date on the latest advancements in dental technology, products, and techniques. To learn more about her practice, contact her through her website.
Comments Off

on Which Toothpaste is Best? Your Dentist in Owing Mills Can Help!
No Comments
No comments yet.
RSS feed for comments on this post.
Sorry, the comment form is closed at this time.