June 14, 2018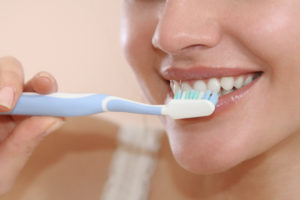 As spring rounds out and summer approaches, you're eager to make improvements in your oral care, but you're not sure what changes need to be made. Thankfully, your dentist in Owings Mills has some simple tips on how to improve your oral health and prevent dental problems. Better yet, all these activities can be done right before you retire for bed. Read on to learn what they are!
5 Nighttime Tips for Improved Oral Health
Before you retire for the night, you have an opportunity to make a big impact on your oral health by consistently doing the following:
Practice Oral Hygiene – It's important to brush and floss your teeth before you go to bed, so that you can remove bacteria, plaque and leftover food particles from your mouth. This is especially important to be done at night because your mouth is more susceptible to bacteria growth, due to the fact that it's drier while you slumber.
Use Good Form – It's equally important to use proper technique with oral hygiene habits. It ensures that you won't irritate your more sensitive soft tissue and will also provide a more thorough cleaning.
Use an Electric Toothbrush – When you brush with an electric toothbrush, you elevate your oral hygiene to a new level. The fast action of the rotating bristles will provide for a more tedious cleaning experience, require less time and allow you to get into places that maybe were previously more difficult access.
Rinse with Mouthwash – Rinsing your mouth is a way to flush out any lingering bacteria before you lie down. Given that your mouth becomes very dry while you sleep, it also helps to maintain moisture longer.
Wear a Mouthguard – If you suffer from bruxism (teeth grinding), then you should speak with your dentist about being fitted with a custom-made mouthguard to wear at night. Otherwise, you could suffer from a host of problems, that includes premature teeth wear.
By implementing these easy changes, you will be taking positive steps toward a healthier oral cavity. Still, there's one more tip that you should definitely act on.
The Value of a Dental Visit
One of the simpler ways to enhance your oral health is to maintain regular visits with your local dentist for cleanings and checkups. These appointments not only send you away from your dentist's office smiling with beautiful, clean teeth, they also provide you with a thorough report on the condition of your oral health. This information is empowering in that it allows you to take control of your dental wellness by getting the work you need done before you're in an emergent situation.
To take the steps toward excellent oral health, reach out to your dentist to schedule an appointment today!
About the Author
Dr. Monica Mattson earned her Bachelor of Science degree from Miami University and then went on to receive her Doctor of Dental Surgery degree from Case Western Reserve University School of Dental Medicine. She has gone on to have a rewarding career full of an array of experiences, which includes practicing dentistry for eight years in the United States Navy and serving as a Teaching Assistant and Faculty Representative at Case Western Reserve University. Dr. Mattson helps patients experience the absolute best in dental care at Diamond Dental of Owings Mills and can be reached for more information through her website.
Comments Off

on Your Dentist in Owings Mills Gives 5 Bed Time Tips for Oral Health
No Comments
No comments yet.
RSS feed for comments on this post.
Sorry, the comment form is closed at this time.