July 16, 2022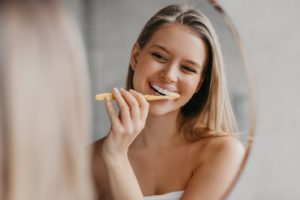 On average, veneers last for 10 – 15 years before they need to be replaced. However, some patients find that theirs last for 20, 25, or even 30 years without running into any significant problems. What can you do to extend the lifespan of your veneers so you can get as much as possible out of your investment in cosmetic dentistry? Here are five practical tips:
Maintain Excellent Oral Hygiene
Missteps in oral hygiene could lead to gum disease and cavities. When such issues occur on or around the teeth that support veneers, the veneers may need to be removed so you can receive proper treatment. Therefore, and oral hygiene routine that includes twice-daily brushing and once-daily flossing should be a staple of your routine.
Keep in mind as well that you should always be gentle when brushing and flossing. Use a soft-bristled brush so you do not accidentally scratch your veneers and cause them to prematurely lose their beauty.
Choose the Right Toothpaste
Whitening toothpastes are extremely popular, and they are useful for removing surface stains on teeth. Unfortunately, they are usually not good for veneers. Not only do such toothpastes not whiten veneers, but they can actually cause damage. They tend to contain abrasive ingredients, such as baking soda, that can easily scratch porcelain.
It is best to choose a fluoride-containing toothpaste that can strengthen your enamel and help to prevent cavities on the teeth that support veneers. If your natural teeth begin to develop stains, ask your dentist for help to address the discoloration.
Adjust Your Diet
Biting down on hard foods, like ice or jawbreaker candies, could easily break your veneers. If you choose to consume such items, you should suck on them rather than chew. Additionally, keep in mind that staining foods and beverages, like coffee, are best enjoyed in moderation. Although veneers are highly resistant to stains, the bonding agent that keeps them in place can become discolored over time, causing an unsightly tint to appear around the edges of your teeth.
Avoid Tobacco
Cigarettes and chewing tobacco can be detrimental to oral health. They can also prove harmful to veneers, eventually causing them to lose their original beauty. Additionally, tobacco can stain the teeth around your veneers, which could result in an unevenly colored smile.
Keep Up with Regular Dental Visits
Visiting your dentist every six months is a smart practice. At these appointments, your dentist has the opportunity to examine both your oral tissues and your veneers. If it looks like any problems are developing, they can usually be addressed before they become serious. Plus, routine professional dental cleanings can help both your veneers and your natural teeth continue to look their best.
Extending the lifespan of your veneers may require you to make some adjustments to your usual habits, but your efforts are likely to reward you with years of beautiful, confident smiles.
Meet the Dentist
Dr. Monica Mattson is a highly experienced general and cosmetic dentist in Owings Mills, MD. Veneers and veneer maintenance are among the many services she provides. If you are interested in learning more about how she may be able to serve you, contact our office at 443-394-2273.
Comments Off

on 5 Tips to Help You Get More Out of Your Veneers
No Comments
No comments yet.
RSS feed for comments on this post.
Sorry, the comment form is closed at this time.