September 9, 2021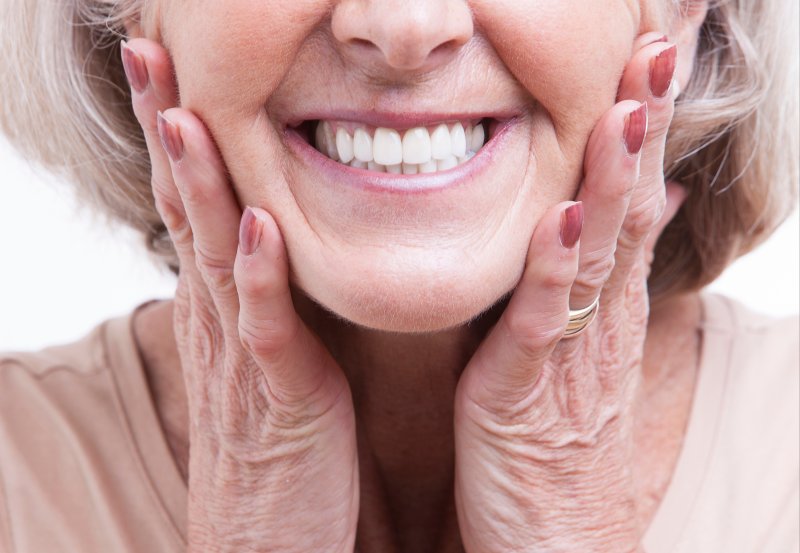 Millions of Americans suffer from extensive tooth loss. If you're a part of that group, you know from experience how much it can affect your quality of life. Luckily, dentures are an excellent solution that can complete your smile and restore your confidence. Although they're a great fix for many, they leave others wanting a better fit or more stability. If you're thinking about using denture adhesive, here's what you should know about it and learn how to properly use it.
What Is Denture Adhesive?
Denture adhesive is a product that helps temporarily attach dentures to your gums. It increases stability and creates a seal to keep particles from getting trapped between your gums and dentures. While most patients find that their dentures fit properly without denture adhesive, a few may need additional help keeping their oral appliances in place. From pastes to powders to wafers, you're guaranteed to find a denture adhesive that works best for your individual needs.
When Should You Use Denture Adhesive?
You might want to consider using denture adhesive if:
You frequently use your facial muscles. Singers, public speakers, teachers, and athletes may benefit from denture adhesive as it can increase the strength and hold of dentures. It allows you to use your facial muscles comfortably without having to worry about your appliances slipping out of place.
Your dentures slip towards the end of the day. A film of saliva is usually all that's needed to hold dentures firmly in place. However, if your appliances move throughout the day, you may want to consider using denture adhesive. It's most beneficial for patients who suffer from dry mouth conditions, have neurological disabilities, or are elderly.
How to Use Denture Adhesive
If you want your dentures to stay in place all day, you must make sure the adhesive is applied properly. Not sure how to do that? Here's a brief guide for using denture adhesive:
Application
Brush and rinse your dentures thoroughly. Make sure they're completely dry before moving on to the next step.
Carefully apply the adhesive to your dentures according to the instructions on the packaging. Start with a small amount and try not to apply too close to the edges.
Position the dentures, press firmly, and hold them in place for a few seconds. If adhesive begins to flow into your mouth, you've applied too much of it.
Removal
Use warm water, toothpaste, and a soft-bristled toothbrush to remove the residue from your gums, palette, tongue, and mouth.
After you're done, thoroughly clean your dentures using a special denture cleanser.
Do you think you need to start using denture adhesive? Contact your dentist and ask what products they recommend. They'll help you regain the confidence and security you deserve!
About the Practice
At Diamond Dental of Owing Mills, we offer exceptional, high-quality, personalized services guaranteed to meet all your oral health needs. Our team is passionate about helping every patient achieve their absolute best smile. If you want to start using denture adhesive, we can help you decide on the right product for your needs. Visit our website or call (443) 394-2273 to speak with a member of our team.
Comments Off

on Denture Adhesive: Signs You Need It and How to Use It
No Comments
No comments yet.
RSS feed for comments on this post.
Sorry, the comment form is closed at this time.