April 14, 2021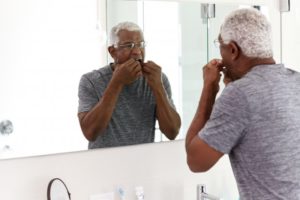 Just like with your natural pearly whites, the key to long-lasting dental implants is good at-home oral hygiene. Even though your new prosthetic can't get cavities, it's still important to regularly brush, floss, and rinse your mouth because one of the leading causes of implant failure is peri-implantitis, or a gum infection caused by harmful oral bacteria. Read on to learn more about how to effectively floss with dental implants.
Why is Flossing with Dental Implants Important?
When you chew your food, little pieces can become lodged between and around your new prosthetic. If you're not careful about cleaning your teeth, the accumulation of food debris could lead to the build-up of harmful oral bacteria. One of the leading causes of implant failure is peri-implantitis, which is a disease that results in the inflammation of soft and hard tissue that surrounds your dental implants, ultimately causing bone loss.
By regularly flossing, brushing, and rinsing your mouth, you can keep your dental implants clean and prevent bacteria accumulation. Not only will this reduce your risk of developing peri-implantitis, but it will also ensure that you get the most out of your investment in dental implants.
How Can You Effectively Floss with Dental Implants?
Unlike your natural teeth, your prosthetics and dental implants aren't attached to your gums, which makes the process of flossing a little different. A seal forms around your dental implants that protects the area from harmful bacteria, and when it's broken, it can allow them in. So, it's important to be incredibly thorough when you floss each day.
Never push the floss into the pockets of your gums. In fact, some dentists recommend not using dental floss at all. For a more thorough clean, you can use a water flosser, which will rinse away any debris that could be lodged in hard-to-reach areas of your mouth that you can't get to with a toothbrush. You can also rinse your mouth with an antimicrobial, non-alcohol mouthwash, too.
With the Right Care, You Can Enjoy Your Implants for a Lifetime
A diligent at-home oral hygiene routine paired with bi-annual checkups and cleanings with your dentist are great ways to make all of the time and money that you've invested into getting dental implants worth it! Studies have shown that with the right care, implant-retained prosthetics can last for 35 or more years, which is about four times as long as traditional restorations. With dental implants, it's like you have a new lease on your smile, and you should take advantage of that!
About the Author
Dr. Monica Mattson is dedicated to offering her patients high-quality dentistry and cutting-edge treatments, like dental implants. She regularly takes advanced education courses and has completed training at the Las Vegas Institute for Cosmetic Dentistry. She has also received specialized training on the dental implant process. For questions or to learn more about how to take care of dental implants, visit Diamond Dental of Owings Mills' website or call 443-394-2273.
Comments Off

on Can You Floss Your Dental Implants?
No Comments
No comments yet.
RSS feed for comments on this post.
Sorry, the comment form is closed at this time.