July 21, 2016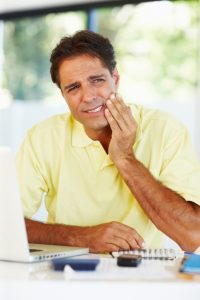 If you're experiencing pain and discomfort of the jaw, there's a good chance you may have TMJ. TMJ is a common condition that causes a wide range of uncomfortable symptoms, which can make eating and speaking difficult. Thankfully, you can successfully treat TMJ symptoms with the help of your dentist. We offer night guards in Owings Mills to help relieve the pain and discomfort associated with the disorder. Using night guards to treat TMJ in Owings Mills offers a noninvasive and simple treatment to reduce the strain on your jaw.

What is TMJ?
TMJ refers to the temporomandibular joint, which is the joint that connects the jaw to the skull. When this joint functions improperly, it's referred to as a temporomandibular joint disorder (TMD). Symptoms of TMJ are quite diverse. Many people think symptoms of TMJ only include pain and discomfort of the joint, but symptoms can also include clicking, popping, and grinding noises. In addition, it's not uncommon for the jaw to lock open or closed. Headaches, earaches, and even neck and shoulder pain can result from the disorder. In many cases, sensitivity and pain of the teeth can occur, which is especially common when the disorder also includes bruxism, which is grinding of the teeth.
With roughly 10 million people in the United States suffering from TMJ, there are now many different treatment options available. Among the most common treatment for TMJ involves the use of a night guard. While many believe night guards are only effective for treating bruxism, there are positive results when using night guards to treat TMJ.
How Do Night Guard Help TMJ?
A night guard is an oral appliance that is worn at night while you sleep. The custom-made devices are worn over the teeth to help reposition the jaw into a more comfortable position. In addition, this helps put less strain and pressure on the joint and teeth, which is especially beneficial when bruxism is also present.
Night guards have been proven effective for lessening the symptoms of TMJ, especially when combined with other home treatments. Additional home treatments for TMJ include exercises to help increase the flexibility of the joint. Relaxation and light stretching of the joint will help to decrease the tension of the jaw to reduce symptoms. In some instances, it may be recommended to modify your diet to avoid eating any overly hard foods, which will decrease the chewing power needed to prevent joint pain.
Night Guards in Owings Mills
At Diamond Dental, we offer a full range of oral health services, including the treatment of TMJ in Owings Mills. We offer the customized night guards and oral appliances needed to effectively reduce the symptoms of TMJ. After performing a thorough evaluation, we will determine if a night guard will help relieve the discomfort. Should the oral appliance be recommended, we create the customized guard to ensure it's comfortable and effective.
If you're interested in treating TMJ with night guards in Owings Mills, call Diamond Dental at (443) 394-2273 to schedule a consultation.
No Comments »
No comments yet.
RSS feed for comments on this post.
Leave a comment