June 7, 2016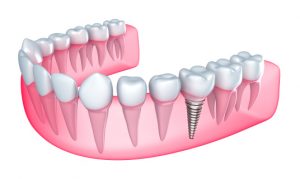 Whether you are missing one or more teeth, already wear dentures that are bothersome or would rather not have to alter teeth in order to support a bridge, talk to Dr. Mattson about dental implants. For people in Owings Mills, dental implants can be an excellent choice to restore your smile and your ability to chew and talk with confidence.
What are Dental Implants?
Of all the tooth replacement options you have to consider, dental implants are probably the most lifelike. Unlike a denture or a bridge, dental implants replace both the portion of a tooth that is visible—the crown—as well as the portion that no one sees or hardly ever thinks about—the root.
The actual implant that replaces your missing tooth root is constructed out of titanium and other materials that are biocompatible. Very rarely does the body reject these, so you can feel comfortable having this material implanted in your jaw.
The visible portion of the implant can be either a porcelain crown if Owings Mills cosmetic dentist Dr. Mattson is replacing one tooth; a bridge for several teeth; or implant-retained dentures for patients who are missing all of the teeth along an arch.
The Implant Process
For the majority of our patients, receiving dental implants happens in three stages. First, Dr. Mattson anesthetizes the site and then surgically implants the titanium post. We understand that this procedure can make some patients anxious. So, don't hesitate to talk to Dr. Mattson about sedation dentistry before your procedure.
The second phase is healing. As your gums heal from surgery, there is something dynamic going on below. The implanted post and surrounding bone tissue fuse together in a process called osseointegration. In this way, your bone firmly holds the implant in place and the implant stimulates healthy new bone tissue growth just the way a natural tooth root does.
The final step is the placement of your tooth restoration. Whether you need a crown, a bridge or a denture, you can be sure Dr. Mattson will specify the size, shape and color that blends in naturally with the rest of your teeth and fits your mouth comfortably.
Call Our Office Today
If you would like to know whether or not you are a qualified candidate for dental implants, then schedule a consultation with Dr. Mattson Diamond Dental of Owings Mills.
No Comments »
No comments yet.
RSS feed for comments on this post.
Leave a comment