April 20, 2017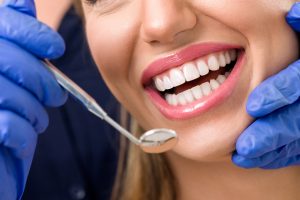 Let's be honest – your teeth don't give you a reason to smile. With chips, a small gap right in the front, and teeth that aren't long enough to make proper contact when you bite, your dental imperfections are much more noticeable than you'd like. Plus, with all the coffee you've been drinking to get through grad school, your smile is dimmer than it should be and all of these issues affect your self-confidence. You're ready to upgrade your smile, but you wish there was one cosmetic procedure that could address everything with a single treatment. Luckily for you, porcelain veneers in Owings Mills can give you the perfect smile you've been longing for. Find out more about this long-lasting, natural-looking upgrade from the experts at Diamond Dental of Owings Mills.
What Are Porcelain Veneers?
As your premier cosmetic dentist in 21117, Dr. Monica Mattson explains that veneers are thin, yet durable shells of porcelain that are permanently bonded to the front side of your existing teeth. They're a great way to correct a multitude of dental issues with a single treatment method.
What Issues Do Porcelain Veneers Correct?
This exceptional upgrade addresses many different aesthetic and functional dental problems:
Discolored Teeth – Since you pick the shade of porcelain and bonding agent, you can make your teeth as radiant as you like. These are especially great if you have staining from medications like tetracycline antibiotics.
Chips – Veneers camouflage nicks in your teeth, restoring the perfect, symmetrical shape to each tooth.
Gaps & Alignment Issues – Have gaps or only moderately misaligned teeth but don't want braces? Veneers can address these problems and make your smile perfectly straight.
Short Teeth – It is common for some teeth to be shorter than others, and veneers are a great way to add length and ensure your teeth make proper contact when chewing (and smiling).
Why Are Porcelain Veneers The Right Choice For Me?
Dr. Mattson suggests this treatment method as the ideal solution for patients who match the following descriptions:
You have multiple issues. If you have more than one smile imperfection, and you want to avoid having more than one procedure, veneers are a great way to take care of everything at once.
You want a long-lasting solution. Research has shown that porcelain veneers last up to twenty years – with proper care, this upgrade can last decades.
You want a stain resistant option. Since the porcelain intrinsically resists staining, you won't deal with the same discoloration that can affect your natural teeth. You'll be able to enjoy blueberries, coffee, and red wine with this cosmetic makeover.
You want something natural looking. Wonder how celebs get their red-carpet ready smiles? Porcelain veneers provide such a great result, many stars, including Jim Carrey and Tom Cruise, have had this treatment.
You're committed to your oral health. To keep your natural teeth and veneers intact, this options is great for patients who are dedicated to oral hygiene at home, as well as regular dental visits.
So, what are you waiting for? Now that you know what veneers are and how they can benefit you, schedule your appointment with Diamond Dentistry of Owings Mills to get the winning smile you've deserve!
Comments Off

on The Benefits Of Porcelain Veneers In Owings Mills
No Comments
No comments yet.
RSS feed for comments on this post.
Sorry, the comment form is closed at this time.