August 5, 2017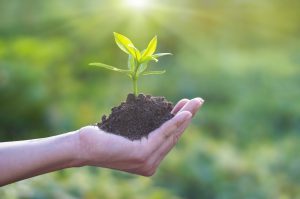 At Diamond Dental of Owings Mills, we believe it's our duty to make sure our office is as environmentally friendly as possible. It's just one of the great ways we can help take care of you both in and out of the office. It may take a little more effort, but we believe the long term impact will be more than worth it. Read on to learn about all the ways your dentist is going green!
Paper-Free Practice
You would be amazed at how much paper a dental office goes through between routine paperwork and patient records. It could fill up an entire landfill on its own! That's why we've committed to going entirely paperless. We process and store your records digitally now, and we communicate using email as much as possible. This not only reduces our environmental impact, but it also frees up a lot of space in our office that used to be needed for storage!
Digital X-Rays
Traditional x-rays are film-based, which means they need to be processed in a darkroom using very toxic chemicals. In the past, we regularly would have to dispose of these chemicals, and though we did it responsibly, it still put a lot of waste into the environment. With our new digital x-ray machine, these chemicals are no longer needed, and even better, it also emits much less radiation than our old machine, which gives many of our patients peace of mind.
Mercury-Free Dentistry
At our practice, we prefer to use tooth-colored fillings as opposed to traditional amalgam ones. They are made of a composite resin that can be specially shaded to match your natural tooth color, and even better, they don't contain potentially harmful mercury like the old metal fillings. This is better for both our patients and the environment, which is a win-win in our book!
Turn Out the Lights!
One small thing we do that most offices don't is we actually completely shut down all of our machines at the end of the day. Yes, it takes a little more time, but it saves a tremendous amount of wasted electricity over the years. We love it when we can do little things that have a large impact.
We Do It For You
In the end, while all of these practices are great for the environment, it really comes down to serving our patients and the world at large. We want to make this world a better place in every way we can, and we know by taking care of the environment, we're really taking care of you.
If you're ready to visit a dentist who takes care of your smile AND the world at the same time, be sure to schedule an appointment with us today!
Comments Off

on 4 Ways Your Dentist is Going Green
No Comments
No comments yet.
RSS feed for comments on this post.
Sorry, the comment form is closed at this time.