August 17, 2020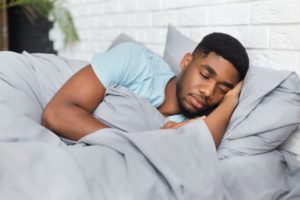 When you're looking for ways to get a better night's sleep, you may stumble across some people on social media singing praises for weighted blankets. Originally used to help people with anxiety, ADHD, and similar conditions, nowadays virtually anyone can snuggle up under these blankets and enjoy a more restful night's sleep as a result. This particular sleep aid is so effective, it could even help relieve your sleep disorders! Read on to learn how a weighted blanket could help reduce your symptoms for sleep apnea in Owings Mills.
How Do Weighted Blankets Work?
A weighted blanket is very carefully designed to apply gentle pressure evenly throughout your body. It's often described to feel like a very gentle hug, making it much easier to relax. Each blanket has a different weight; some are as light as 4 or 5 pounds while others can be as heavy as 30 pounds. (In general, 12 pounds is usually ideal; too much excessive pressure or weight could end up interfering with your sleep instead.) A weighted blanket can help settle down an overactive nervous system as well as lower your heart rate. The end result is that you'll find yourself drifting off to sleep much sooner than you normally would.
What Effect Do Weighted Blankets Have on Sleep Apnea?
One notable side effect of using a weighted blanket is that it encourages your body to produce more oxytocin, also known as the "feel-good hormone." Oxytocin is one of several key hormones in the sleep cycle; large amounts of it tend to be produced during the later stages of deep REM sleep. In 2017, a study published in the American Journal of Physiology found that more oxytocin can reduce obstructive sleep apnea symptoms. In other words, by sleeping under a weighted blanket, not only is it easier to fall asleep, but you could also lower your risk of being awakened by a sleep disorder.
How Else Do Weighted Blankets Help You Sleep?
In addition to producing oxytocin, the deep pressure stimulation of weighted blankets also promotes serotonin, a hormone that helps you relax and stabilizes your mood. Serotonin helps regulate the sleep-wake cycle; it's important to make sure your body is producing enough of this hormone, or else you might suffer from a disrupted sleep cycle and depression. Also, deep pressure stimulation has been shown to help relieve stress by lowering cortisol levels.
While it's always important to see a dentist in Owings Mills for help in dealing with sleep apnea, using a weighted blanket to try and improve the quality of your sleep certainly can't hurt. Keep this unique sleep aid in mind if you find yourself suffering from chronic sleep problems.
About the Author
Dr. Monica M. Mattson attended the Case Western Reserve University School of Dental Medicine, and she has been commissioned as an Officer in the United States Navy. She believes service to others is of the utmost importance, and she strives to help her patients in a wide variety of ways – including sleep apnea treatment. If you believe you're suffering from a sleep disorder, get in touch with Diamond Dental of Owings Mills through Dr. Mattson's website or by calling (443) 394-2273.
Comments Off

on How Can a Weighted Blanket Help with Sleep Apnea?
No Comments
No comments yet.
RSS feed for comments on this post.
Sorry, the comment form is closed at this time.