February 1, 2016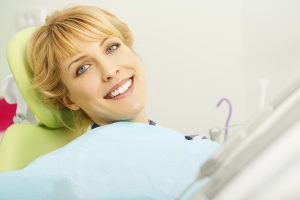 Is there ever a good time to chat about gum disease? Yes, actually, now is the perfect time because February has been recognized as Gum Disease Awareness Month. And considering research shows that more than 80 percent of the adult population in the United States has gum disease to a degree, awareness and discussion are always timely.

Likewise, if you have gum disease, there's no better time than the present for treatment. Dr. Monica Mattson offers a number of options for gum disease treatment in Owings Mills, MD.
Gum disease is a bacterial infection that affects the soft tissue and bone structure that support your teeth. As the disease advances from gingivitis to periodontitis, symptoms go from swollen gum tissue that may occasionally bleed to teeth that begin to loosen as bone tissue deteriorates. Ultimately, teeth may need to be extracted in order to stop the advance of the disease. In fact, periodontal disease is the #1 cause of tooth loss in America.
Healthy Gums with Care from your Owings Mills Dentist
Caring for your gums at Diamond Dental of Owings Mills begins at your twice-yearly dental cleanings and exams. At these visits, we check the gums for any issues. Using a small probe, the depth of gum pockets around your teeth are measured; under three millimeters deep and your gums are healthy, but more than four millimeters is often a sign of periodontal disease.
To treat gum disease, Dr. Mattson and her staff offer laser periodontal therapy. Using the CAO soft tissue laser, we can eliminate bacteria and their toxins from around your teeth and below the gum line. Moreover, this process encourages gum tissue reattachment and the healing process is a fraction of that required with standard gum tissue surgery. Dr. Mattson also uses soft tissue laser treatment to remove excess tissue in patients who have a gummy smile, as well as to biopsy suspicious sores in the mouth.
At Diamond Dental of Owings Mills, we sell Sonicare toothbrushes for home use. Although Dr. Mattson and her staff are able to treat gum disease, the best option is to avoid the problem in the first place. To do that, you need to practice excellent and regular oral hygiene at home.
The Sonicare toothbrush can help you brush well. After brushing, don't forget to floss between your teeth in order to remove small food particles, as well as plaque buildup.
Schedule an Appointment Today for Gum Disease Treatment
If you notice that your gums bleed when you brush or floss, then this could potentially be a sign that you have gum disease. Call the dental practice of Dr. Monica Mattson, the dentist Owings Mills residents trust to provide the comprehensive dental care they need for healthy smiles.
No Comments »
No comments yet.
RSS feed for comments on this post.
Leave a comment