December 29, 2016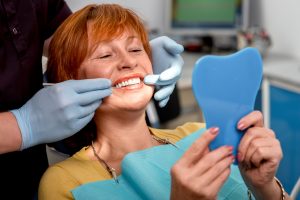 Do you need a dental checkup? Or did a dental emergency sneak up on you? If you're busy typing "dentist near me" into your search engine, there are some things to know before you choose your next dental team. Don't make a rushed choice! Instead, trust your smile to a professional with proven experience, education, and who has made a commitment to using the latest technology.
Here's how to pick the best dentist in Owings Mills, in three simple steps.
First, Check Their About Me/Us Page
Take a few minutes to browse through your potential dentist's About Me page on their website. While you're there, browse through their educational history and check to see if the dentist has earned any awards for excellent care. Dr. Mattson has received recognition for trust, outstanding leadership, integrity, and interpersonal communication skills from the Pierre Fauchard Academy as well as the Quintessence Award for research achievement, among other awards.
Your dentist should also value continuing education, which helps medical professionals of all areas provide the very best, most advanced care. Look out for membership in professional organizations like the American Dental Association, and the Maryland State Dental Association in our area.
And What About Services?
Maybe you're looking for a dentist because you need a particular service right now — still, you shouldn't base your selection only on your immediate needs. Instead, check to make sure the dentist offers a complete list of dental services. Same-day dentistry and dental implant care are two things that you may need at some point down the line, and you'll have a big advantage if you already know where to turn when future dental needs arise.
Diamond Dental of Owings Mills offers your general services, like checkups, cleanings, and restorative dentistry, as well as cosmetic treatments, emergency care, and much more.
Look for the Latest Technology
Dentistry has never been more efficient or comfortable than it is today, thanks to the latest advancements in technology. But some dentists are still stuck in the figurative stone age — and while a commitment to old fashioned niceness and personal attention is a thing to value, so is upgrading to the latest technology. And you can have a dentist who provides both.
CEREC same-day dentistry allows your dentist to plan for, manufacture, and place a restoration in just one appointment. Forget the days of waiting two or more weeks to have a dental crown completed. Same-day dentistry provides incredible results without any unnecessary delays!
Digital impressions with the iTero Scanner are comfortable and provide a better view of your mouth than is possible with that messy putty.
In addition to having proven experience, extensive education, and a full list of services, Dr. Mattson has invested in CEREC as well as iTero digital scanning! That's exciting news in your search for a high quality dentist in Owings Mills. We invite you to schedule an appointment with Dr. Mattson at Diamond Dental today!
Comments Off

on How to Find the Best Dentist Near Me?
No Comments
No comments yet.
RSS feed for comments on this post.
Sorry, the comment form is closed at this time.