October 28, 2018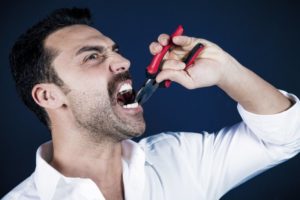 Living in the Information Era has its positives and negatives. It's great that you can look at a YouTube video to learn how to properly install a new doorknob or starter in your vehicle, but when it comes to a dental procedure like a tooth extraction, is it safe to take the DIY (do-it-yourself) route? As you read on, your dentist in Owings Mills shares a professional perspective on this matter to clear any confusion.
How the Tooth Extraction Process Works
Having a tooth extracted is considered to be either a basic or major dental procedure depending on the complexity of the situation. The surgical procedure involves your dentist taking the following steps:
Numbing – When performed by a trained professional, a tooth extraction is a painless procedure. It begins with your dentist applying a topical anesthesia before the process starts to numb the area where the work is to be done.
Loosening the Tooth – The tooth extraction procedure also requires the patience and sure hands of your dentist. He or she will use a special tool called an elevator to safely loosen the tooth while it's still in the socket.
Tooth Extraction – After the tooth is loosened, your dentist will use forceps to grab the digit and carefully extract it.
Blood Clotting – Finally, you'll be given a cotton gauze to gently bite down on that will help to make your blood clot. Typically, there will be light bleeding up to 24 hours after the procedure concludes.
Creative Home Extraction Methods
Here are some of the more bizarre ways that people attempt to pull their teeth at home. Brace yourself, as the following may appear to be from a medieval torture manual:
String tied to a door
String attached to a car
Using a nerf gun
Using pliers
Attaching the string to a dog
While these techniques may be great for an old episode of MacGyver, they are risky to try out.
The Dangers of a DIY Extraction
When you attempt to pull a tooth at home, you are risking infection, excessive bleeding and serious damage to your other teeth and underlying bone. Furthermore, you will subject yourself to unnecessary pain.
While the perceived cost-savings may be attractive, you should take into consideration that any complications could lead to even more costly and complex forms of treatment down the road.
The safest and most effective route for a tooth extraction is to visit your dentist in 21117. The professional will provide the expert care you need so you can enjoy the best in oral health!
About the Author
After earning her BS degree from Miami University, Oxford Ohio, Dr. Monica M. Mattson went on to receive her dental degree from Case Western Reserve University School of Dental Medicine. A veteran of the United States Navy, she has provided dental care as far abroad as Japan. Dr. Mattson manages to keep her skills sharp by maintaining affiliation with the Las Vegas Institute for Advanced Dental Studies, the Triple Crown Study Club and other professional organizations. She safely extracts teeth and restores dental health at Diamond Dental, and she can be reached for more information through her website.
Comments Off

on Your Dentist in Owings Mills Explains the Danger of DIY Teeth-Pulling
No Comments
No comments yet.
RSS feed for comments on this post.
Sorry, the comment form is closed at this time.